It's almost official: Concert-promoting heady overlord Live Nation is one step closer to pulling off the…completely unnecessary. The good people at Idolator ran a clever post today with the following picture taken from one of those cellular telephones with the cameras. They're taking down the sign, and just six days from now, the un-brand new Fillmore New York at Irving Plaza will still(!) be open to the public.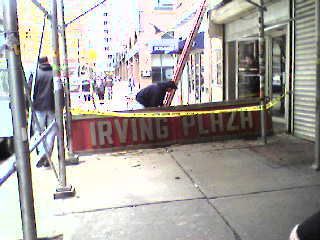 There are purists and there are branders. And the branders love the "at" and "of" prepositions; for, those little descriptors allow them be douchebags. Or douchebottles, or whatever the devil you fallopian tubers use these days.
The pride of Denver took the naming-rights ducats and became Invesco Field at Mile High. Arte Moreno, so soon after his $184 million purchase, smelled bigger-city pesos and birthed the Los Angeles Angels of Anaheim. Even one of our alma maters fell prey to a benefactor of renovation and transformed itself from a lesbianic-sounding stronghold to Ryan Field at Dyche Stadium (with the last three words generally truncated). Face it: Ideas hatch, and unscrupulous whores with silly motives and sillier perspective usually incubate them quickly.
But here's the angle that's not being discussed: Live Nation has to be frustrated by the success of Wolfgang's Vault. The wunder-site began after Bill Sagan bought the contents of Bill Graham's old shit for $5 million dollars from Live Nation's former parent company. Hell, the Bill Graham Presents website is Live Nation owned and operated. Live Nation is the kid that traded away his dad's Mickey Something rookie card for a week of borrowing Contra for Nintendo. Sagan found the contents in complete disarray, so Live Nation obviously had no idea of the vast amount of priceless rock memorabilia that was thrown in a warehouse. Now someone is pissed and wants to leverage the Bill Graham Presents trademarks for all they're worth.
Cheeky bastards. We can't wait to go and see what's not at all new there…