Come late June, the School of Rock Festival is headed to Asbury Park, New Jersey. So women, paint your nails and face and tease your hair; men, throw on the wife beater and hair gel. Let's all pile in the Camaro for a trip to the Shore.
The lineup looks incredible, and given this is my birthday weekend, a trip to the Land O' Skee-Ball doesn't seem so far out of the question. You can't really go wrong with Ween, the Benevento/Russo Duo, Bad Brains, the Adrian Belew Trio and, of course, the School of Rock All-Stars featuring both Jeff "Skunk" Baxter and Vernon Reid. Here's the official flyer (thanks, Robin):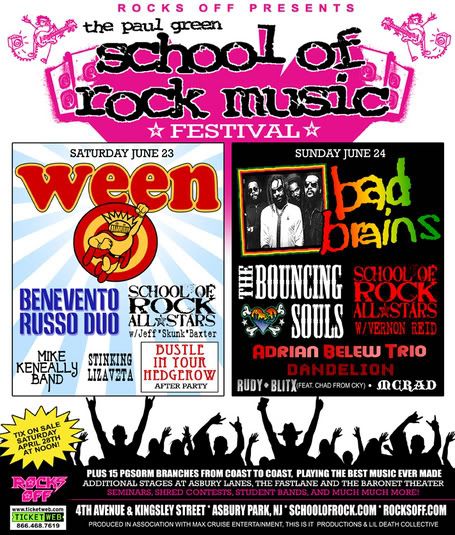 And let us not forget about the Bustle In Your Hedgerow after-party. This one could be get sloppier than a sloppy joe. A New Jersey sloppy joe, that is.