Peter Gabriel – 07/21/87 SBD
http://www.thetradersden.org/forums/showthread.php?t=28624
So what if Petey Gabes isn't going on the road with Genesis just yet, his solo band is amazing. The proof is in this crispy soundboard from 1987 when he was on top of the world following the release of the commercially viable So.
Petey plays all the hits at this show, including an eight-minute romp through the always fantastic Shock The Monkey.
Black Crowes – 10/31/06 AUD
http://bt.etree.org/details.php?id=501534
The Black Crowes have begun a tradition at their Halloween shows of playing a mini-set with the band covering another artist. Last year they became BC/DC, and this year they were The Bitch Boys in honor of Brian Wilson and company. While the mini-set features more uncomfortable moments than a dinner with Chris Robinson and Kate Hudson, the two Crowes sets are unbelievable. I would have thought the loss of two key members would have rendered this band impotent, but I was clearly wrong.
Pearl Jam – 03/04/92 SBD
http://bt.etree.org/details.php?id=501497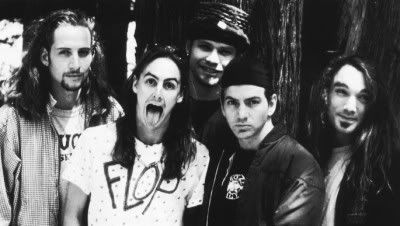 After seeing the recent Sundance special Iconoclasts, which featured Eddie Vedder and Laird Hamilton giving each other the "You're the man, no, you're the man" treatment, I wanted to rock out to some Pearl Jam. You can always count on etree to deliver, and this show features the band ripping through the material from Ten. This one scores high on the killer-to-filler ratio scale.
Trey Anastasio – 11/04/06 AUD
http://bt.etree.org/details.php?id=501531
Big Red finished his tour at a sacred venue, Barton Hall in Ithaca. I don't know if it was the bevy of school girls or what, but the man came through with a stellar show to end a stellar tour. No, they didn't play Scarlet–Fire (or for that matter the "Move Back" speech), but they did take a stab at Voodoo Chile and Barracuda. Hendrix > Heart, gotta love that.
Aquarium Rescue Unit (w/ Dave Grippo) – 03/31/92 SBD
http://bt.etree.org/details.php?id=501523
I've been hearing many great reports from the recent one-off ARU show in Atlanta. It's nice to see the originators of the scene getting the respect they deserve. Respect is earned, and this show from Burlington will give you a glimpse into what makes ARU so sick. As we saw with last week's Tenacious D video, it can't be a Burlington show without a Phish related sit-in, and Dave "The Truth" Grippo makes a stellar appearance.
Medeski, Martin, and Wood: 10/31/06 AUD
http://bt.etree.org/details.php?id=501518
Neddy's review was just so fucking good I had to check this show out myself, and I wasn't disappointed in the least. Check it.
Branford and X-Men: 12/31/90 SBD
http://www.dimeadozen.org/torrents-details.php?id=120167
http://stash.nugs.net/attics/901231_mp3.asp?artist=11&show=52&cmd=shows
It's not often the Dead allowed for opening bands towards the end of their run, but they made an exception on New Years. In 1989, it was the final gig of seminal bluegrass band The New Grass Revival, and in 1990 it was a supergroup featuring Branford Marsalis, Jeff Watts, Robert Hearst, and Kevin Eubanks. The first link above is for downloading the show, while the second is for streaming. And remember, the left lane is for passing and the right lane is for traveling…
And while we are all about getting you good music free, we respect the artists and love when they make soundboards available. Support the artists and buy these amazing releases, which are hot off the presses.
The Disco Biscuits: 11/03/06 Northampton, MA
Phish: Colorado '88
Umphrey's McGee: 11/02/06 Madison, WI
Widespread Panic: 10/30/06 Las Vegas, NV
Now it's your turn…what shows have you downloaded recently?