If you are looking for full blown reviews on each band, please consult the Internet — both bands' message boards are alive with glowing reviews from the weekend. I will say this, though: Umphrey's sets from night one were amazing, and moe.'s second set from night two was EN FUEGO! Both moe. and its lighting director Waful were firing on all cylinders, and the crowd loved every minute.
Photo by Joel Berk
Summer Camp brings out a "down-home" vibe in both the patron and entertainer. Cornmeal stood out to me as the most rustic band, playing a great set on the main stage and an intimate set by the campfire before MMW. Those guys can play with any of the string bands on the circuit, and I see great things in their future.
Tea Leaf Green turned in a hot late-night set, highlighted by a Bayliss sit-in on my personal favorite tune Sex in the 70's (listen here). Alan, TLG's new light guy, also turned in a spot-on performance on a light rig he just laid eyes on hours before the show. Great job, boys.
Photo by Francis Zangle
The winners of the "Chill Out Set" award goes to The Wailers. A virtual hit factory of Tuff Gong material delivered with rhythmic perfection and melodic bliss. Yes, even I was swaying from side to side on stage while Lou and Drew — The Terrible
Two from Keller's Crew — rushed around to prepare for their set. Natural Mystic stood out as their best song.
WMDs could mean some pretty negative shit, depending on who you say it to. When the Summer Camp announcer Vince came out and dropped this name on the crowd, it meant Wicked Mental Dance Session. Keller Williams, Jeff Sipe, Gibb Droll and Keith Moseley laid down some SERIOUS funk and got the entire place jumping. This is definitely a band you want to see before they go their separate ways. In the side-project category, it doesn't get better than this.
And now the answer to the question on everyone's mind: Why was Bayliss in a dress at Late Night? Well, there was a lot more action than that going on…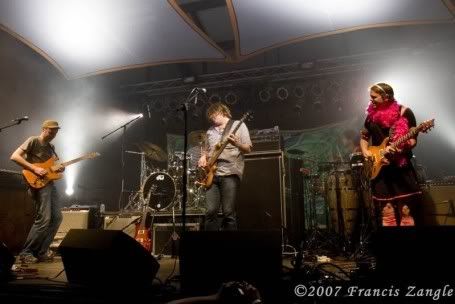 Photo by Francis Zangle
moe. bassist Rob Derhak and Bayliss had a wager going on last football season: The Bears would win the Super Bowl. If they didn't, Bayliss would have to wear a dress on stage at Summer Camp. Well, you best believe Derhak didn't forget, and about two tags into the tag team, out comes Transvestite Bayliss, complete with pink boa. It's at this time Waful and I (Jeff and I ran two light boards for the whole set — thanks for the fun night, Waful!) turn the pink lights on for the lady. Minutes later, Pony comes to tag Derhak out in a full-body red spandex devil costume with horns and all.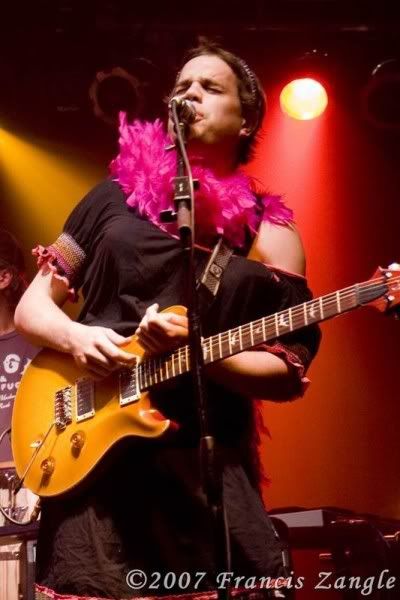 Photo by Francis Zangle
This must have sent a message to the crew by the stage that anything goes — so the crew started tagging in! Cass (moe. monitors) came out to play drums, Robbie (UM stage manager) and Frank (moe. guitars) tagged in to play percussion. It was full-blown shenanigans. Bob Ston (UM. monitors) even tagged out to go bring his fiancée home, only to come back and find Derhak on monitors! I've never laughed harder at "the office" in my life. Many thanks to the moe. crew for being a pleasure to work with, and as it turns out, they're pretty good musicicans, too.
So if you've never been to Summer Camp before, I suggest making the trip next year. The site is beautiful, and the promoter and production company have the infrastructure down to a science, making it a very enjoyable experience for both fan and bandalike. Once again, big shot outs to JAM Productions (Lynch and the best stage crew evs, Lemaistre) and Jay Goldberg for doing it right.
Let's check out some more photos from Summer Camp:
Oteil may not be scatting, but I bet he's thinking about scatting: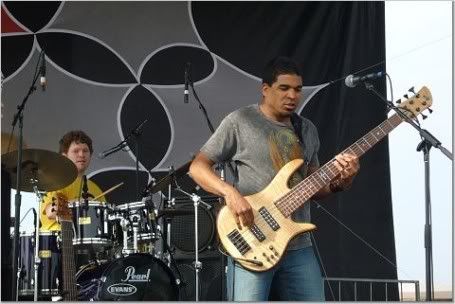 Photo by Christopher Pflederer
This photo of Umphrey's setting up begs the question: Where's Wilby?
Photo by Christopher Pflederer
Allie Kral of Cornmeal lays into it:
Photo by Francis Zangle
Tag Team back again, check it top, wreck it, let's begin:
Photo by Francis Zangle
El Diablo!!!!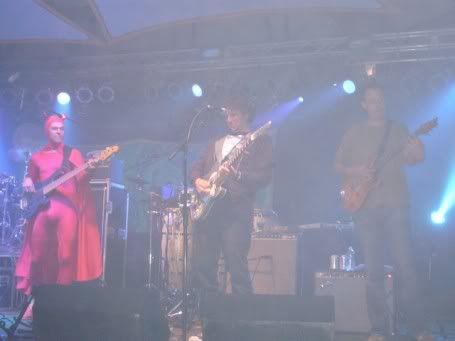 Photo by Christopher Pflederer
Colonel Les Claypool smacks his bass up:
Photo by Francis Zangle
Drop Q proves they are more than just a side project:
Photo by Christopher Pflederer
Thanks to Wade for once again blurring the line between the audience and performers. We also want to extend our gratitude to Joel Berk, Francis Zangle, Melissa Baswell and Christopher Pflederer for use of their amazing photos.
Umphrey's McGee

05.25.07

Set One
Miss Tinkle's Overture, Ocean Billy > Hajimemashite > Eat* > Hajimemashite >
Eat, The Bottom Half > "Jimmy Stewart" > The Bottom Half, Pay the Snucka

Set Two
JaJunk > Walletsworth, All Things Ninja**, Alex's House > Plunger, Words, No
Ordinary Love^ > JaJunk

Notes
* with Bright Lights tease
** with When the Levee Breaks teases
with Jen Hartswick n vocals
last No Ordinary Love 08.07.04

5.26.07

Black Sabbath > All in Time, Great American > Ringo^ > Great American > 2X2
> Bridgeless#, Much Obliged > Ringo%, Nemo

^ w/ Pipeline tease
# second verse, finishes last nights "tag team" version
% w/ Jim Laughlin on percussion

moe.

5/25/07

Set I: Rebubula> Not Coming Down> Wormwood> St. Augustine*> Westerly**>
The Pit, Shoot First, SKRUNK, Seat of My Pants> St. Augustine> Seat of
My Pants> Rebubula

Encore: Spine of a Dog

*w/Nate Wilson on keys
**Assembly of Dust Band Switch/Segue (Strange Folk cover)

5/26/07

I: Akimbo, Bearsong, Crab Eyes, BIG WORLD, Runaway Overload,
Road>Kyle's

II: McBain+>George+>McBain+(NH)Lazarus, Bullet>Brent Black#

Enc: Wind It Up

+ w/ Allie Kral from Cornmeal
# Running with the Devil teases

5/27/07

I: Blue Jeans Pizza, She Sends Me, Y.O.Y.#, Tailspin, Faker > Kids

II: Plane Crash, Yodelittle* > Down Boy, She, Where Does the Time Go >
Buster

E: Nebraska, Recreational Chemistry

# w/ Kris Myers on drums
* w/ Ross Huff on trumpet