The pitching rotation and bullpen are deeper than they've been since 2003, as the Cubs have finally figured out that they can't count on anything from Mark Prior and Kerry Wood. Zambrano has recently guaranteed a Cy Young Award and World Series for Chicagoans. Albeit a bold move, he has come into his own while somewhat under the radar over the past few seasons, and he's ready to stake his claim as the National League's premier starter.
Filling out the rotation with Ted Lilly and Jason Marquis, the young and talented southpaw Rich Hill will join surgically repaired Wade Miller, as the latter starter attempts to regain the dominant form he showed three years ago with the Houston Astros. Prior was slated to be the fifth starter, but is currently on assignment at Iowa (AAA), still not ready to return to the major leagues.
The bullpen needed little attention in the offseason: Bob Howry, Scott Eyre, Ryan Dempster and Will Ohman had rare opportunities to play when it mattered last year due to seemingly endless injuries and poor performances from a very green starting rotation that featured countless rookie starts and major-league debuts. The addition of lefty Neal Cotts from the White Sox was a nice move by Hendry, giving the Sox wildly inconsistent fireballer David Aardsma in exchange. Wood figures to be in this mix at some point — Piniella envisions him as a nasty set up man.
The Cubs will be fielding a much better offensive and [in most spots] defensive team this season. Alfonso Soriano's eight-year multi-million deal gives the Cubs a trio of excellent players (Soriano, 1st baseman Derrek Lee and 3rd baseman Aramis Ramirez) that will be here for years to come. Soriano's speed and power make him a fearsome leadoff man, and the experiment of having him in center field has worked out well so far.
The middle of the order provides no relief. Mark DeRosa or Matt Murton will most likely fill the 2nd hole, both patient hitters with solid defense to complement their hitting. Lee's near Triple Crown season in 2005 will not be an aberration: he's been tearing up the Cactus league and hitting the ball with power to all fields. Third baseman Aramis Ramirez struggled early last year when injuries took the bite away from the Cubs' bats, but finished with impressive numbers. The players surrounding him will ensure he'll get plenty of pitches to hit this year.
Filling the 5th slot will be Jacque Jones or Cliff Floyd, two excellent left-handed hitters with lots of pop in their bats. Jones had a solid season last year in his Cubs debut after having a number of above-average seasons in Minnesota. Michael Barrett's hitting was a highlight for the Cubs in '06, and his defense improved from previous years. Acquired in the trade for Greg Maddux last year, shortstop Cesar Izturis provides great range and hands along with decent hitting and speed. He will be the anchor for the Cubs improved defense in '07. The Cubs have a very deep and versatile group this year, including reserve infielder/outfielders Ryan Theriot, Ronny Cedeno, Daryle Ward and backup catcher Henry Blanco.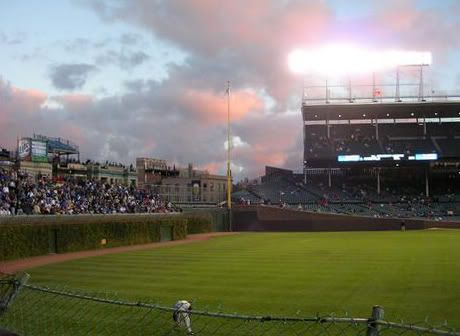 Theriot came on strong late in '06 and has the kind of scrappy demeanor that has made David Eckstein a hero in St. Louis. He can start at 2nd, 3rd or in the outfield. Ronny Cedeno has a year of experience and has already benefited greatly from working with Lou Piniella, as his patience has earned him twice as many walks in spring training as he had all last year. Ward is a tough LH pinch hitter and valuable backup at 1st base when Derrek Lee needs a day off. Henry Blanco is a fantastic defender and battery mate, and his .266 average in '06 earned him lots of respect with Cubs' fans.
The Chicago Cubs were embarassed last year by finishing below the Pirates. In fact, they were the 2nd worst team in baseball. The rejuvenated Cubs know that won't be happening again for quite awhile, and the Cubs should win a fairly tame division this year over the average, weaker St. Louis Cardinals (Albert Pujols can only win so many games), better Milwaukee Brewers (Rickie Weeks will shine), sliding Houston Astros (Carlos Lee will meltdown by August) and annually underachieving Cincinnati Reds (The Griffey wackiness continues). That should open the old NL Central cellar door once again to welcome home its most frequent visitor: the Pittsburgh Pirates, who would have a tough time beating many AAA teams this year.
Thanks to Joel for his terrific essay. We will check in with him again at the All-Star break and at the end of the season to see if the Cubs can finish better than the Pirates this year.

Umphrey's McGee is doing a Northeast Corridor tour this weekend starting with tonight's gig at the Avalon in Boston. The band plays at the Nokia Theater in NYC tomorrow, and continues on to the 9:30 Club in Washington D.C. on Saturday. Last week Umphrey's released a double album entitled The Bottom Half.