That strange Candy and Martin-esque journey detailed above is not unlike the duo's broader path to the stage last night. What started as a desire to "play the real shit" in the Mexican thrash metal scene became a failed experiment that led to playing back-up mood music at a hotel bar. That gig turned into an acoustic ticket to bumming around Europe and situating in Ireland, where these two most likely picked up the obvious proclivity for the word "fookin'" in their stage banter. 
Some serendipidity in original failure came, and eventually the new music took hold, culminating in a record deal and a long tour of these United States. They've become a success story in this country now, but their path was surely as bumpy as the headache that brought them here last night.  
It's tough to describe an evening with this band, just as it's incredibly difficult to describe their sound without butchering it. I'm not sure if the term "Mariachi Metal" has ever been used at all, or if it's ever been applied to Rodrigo Y Gabriela, but that's the best descriptor I can imagine for this music. It's as if a roaming band of mariachis met up with a nomadic pack of Metallica die-hards on the road somewhere, and nine months later, two stars were born. One-part satanic rock, one-part angelic classical; sheer fuck-your-face acoustic awesomeness in totality.   
The duo arrived without a setlist. Rodrigo took a minute after the first song finished to address the crowd, letting everyone know how happy they were to finally make it to the postponed gig. And since it was the first show of the tour, they had no planned set to showcase their unique talent. One song in to the night, and already they took requests. Fitting, as the crowd participation surpassed just about any show I've been to outside of my nephew's 1st birthday party.
Rodrigo Y Gabriela's music itself is worthy of every fluffing adjective I possess. But the duo's sound and visual engineers deserve a massive amount of credit here as well. It's simply amazing how well every note and every self-percussive guitar knocks and bangs are amplified. There's a clear lead line, rhythm line, drums and bass in almost every song, yet only four hands are making the music. It's the great audio team that makes it possible for the full-band sound to come from these two, and I feel they're owed a debt of gratitude.
The visual side provided some mesmerizing moments as well, and the video shots of these two live on stage displayed on a big screen behind them (as evidenced above and below) made some for necessary and fantastic over-stimulation.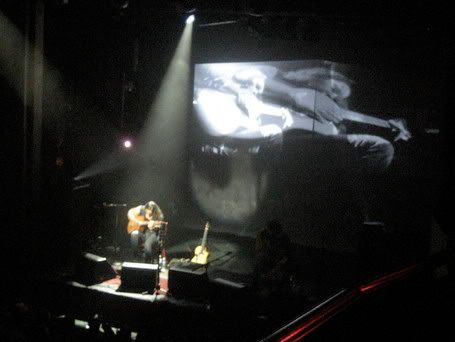 As usual with a predominantly instrumental band, song titles tend to run together and I can't pick out what's what. Also, I'm a total newb. The one original song I can relay that they absolutely tore to fucking shreds is Diablo Rojo (seen here on Letterman), the tune that got me into them in the first place.
Excellently, it followed a "What song is it you wanna hear?" Freebird kind of moment, which made me a happy boy. Throw in some other recognizable originals and a few teases like Seven Nation Army, either Cat Scratch Fever or Smoke on the Water (same song?), and a show finale of Stairway To (flamenco) Heaven, and you've got one helluva night. Here's a brief clip I shot of these two rockin' out:
[youtube]YAdqTCbXDys[/youtube]
The pair seemed genuinely excited to introduce a special guest at the end of the evening: Alex Skolnick of the thrash metal band Testament. The three then launched into a cool jam session to end the evening, mostly centering around the theme to Dave Brubeck's Take Five. At that point my lovely date and headed towards the egress, so unbelievably content in the 90-minute showcase we just received. I honestly wish every band brought their level of enthusiasm and intensity to the first night of a tour.
One note I left out in the covers — there was one moment of singalong hilarity at the show. After a long speech about their love of heavy metal, Rod Y Gab broke into Pink Floyd's Wish U Were Here, which I'm pretty sure is a non-sequitor. The song was quick and over fast, but I've never been a huge fan of an entire crowd singing lyrics (especially the worng lyrics, Guy Behind Me) at the same time, even if we were prompted by the band. Regardless, just for posterity's sake, I took a little video of the shared lyrical experience:
[youtube]em_6p0iN6tk[/youtube]
Rodrigo Y Gabriela just ooze coolness. They throw up the devil-rock horns after every song, they tell funny stories, they collect funny stories, they're a good-looking pair and they rock the fuck out. What's not to love? This really is a must-see band, and when they come to your town, you best get on it.