Chris wasted no time responding to the New York love, hitting everyone with Spoonman right out of the gate. It became very obvious that Chris and his new band were ready to rock those of us lucky enough to get tickets to our knees. Chris even admitted that those of us there must be true fans because this was one tough ticket. Luckily for me I was at the front of the line at Irving Plaza the day the tickets went on sale.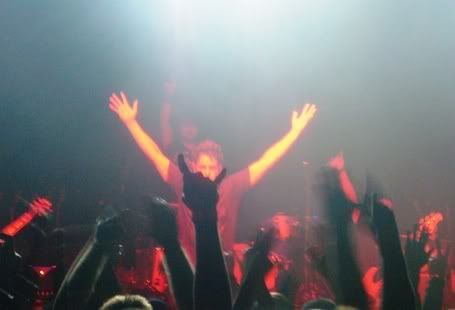 Chris was calm, cool and collected, and he commented on everything from the idiots watching the previous song on their digital cameras to a young lady with a special license plate to feeling a contact high from the building. He gladly high-fived the crowd and had a great stage presence. His voice is still one of the most unique and powerful in the music business today.
He hit every possible time in his life he could: Soundgarden, Temple of the Dog, Singles Soundtrack (Seasons), Euphoria Morning (Can't Change Me) & Audioslave (Like A Stone). The best song of the night for me was his cover of Michael Jackson's Billie Jean, which is on the new album — he sang it as if he wrote it, making it his.
The crowd was so into it at the end and would not stop cheering, clapping and stomping that Chris and the band came out for a second set of encores, not on the setlist we included above. His band was having a blast, and it really showed in their playing. They played hard, thrashed hard and left everyone there with a satisfied feeling. And you can't ask for more than that.
Setlist: Spoonman, Original Fire, No Such Thing, Like a Stone, Arms Around Your Love, Outshined, Seasons, Call Me A Dog (solo acoustic, dedicated to his wife), Can't Change Me (solo acoustic), Doesn't Remind Me, What Your Are, Rusty Cage, Zero Chance, Billy Jean, Loud Love
Encores: Hunger Strike, You Know My Name, Black Hole Sun
2nd Encores (not on setlist): Wide Awake (Chris solo acoustic), Black Hole Sun
Setlist photo courtesy of http://qbertplaya.blogspot.com/2007/04/chris-cornell-irving-plaza-april-16th.html
Chris Cornell's current touring band is:
*Chris Cornell* – Vocals
*Yogi Lonich* (ALLFLOWERS, BUCKCHERRY) – Guitar
*Peter Thorn* (COURTNEY LOVE, JEWEL, ALICIA KEYS) – Guitar
*Jason Sutter * – Drums
*Corey McCormick* (RAFAEL MOREIRA, ROBERTA ROBINSON) – Bass
(courtesy of blabbermouth.net)