Last month we brought you the story of "Hot" Carl Mumpower, an Asheville, North Carolina city councilman who wants to eradicate drug usage in his fair city. Hot Carl attended a Ratdog concert and relayed his feelings to the city manager and local paper that the Civic Center smelled like "an Amsterdam hash bar."
Hot Carl is back on the case. This time he attended a Widespread Panic concert: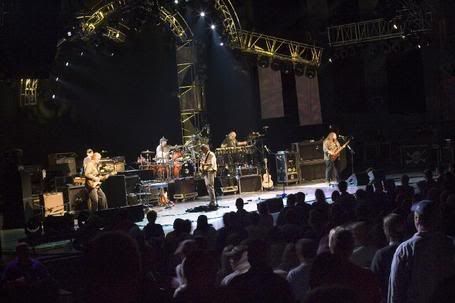 Photo by Jon Lemons
ASHEVILLE — Councilman Carl Mumpower said he was satisfied with the level of security and drug enforcement at Friday night's Widespread Panic Show.

"It was much less intense," he said. "Everybody did their part."

Security was stepped up for the show, including the ban of large backpacks and inspections of smaller bags. Twenty officers patrolled the inside of the Civic Center. Another unit made arrests outside the building…At least four people were arrested on drug charges, including two Colorado teens for allegedly trafficking heroin.
Mumpower won't stop until he rids Asheville of drugs forever:
"I'm going to go wherever I need to go to make sure we're treating our drug problem seriously," he said.
Go get 'em, Carl! The problem is that people now are familiar with Carl's concert going patterns and have made efforts to out Mumpower.
Carl Mumpower wasn't hard to spot during Friday night's Widespread Panic show at the Civic Center.

Hundreds of concertgoers held up cutout masks of the city councilman who attended to observe what he considers a drug hot spot during large concerts.

"His war on drugs is nothing more than a war on hippies," said James Lewis, an Asheville resident who made 250 of the cutout faces even though he was not attending the concert.
Where will Hot Carl turn up next? And who's feeding him all the info on these heady concert dates — does this guy have a JamBase account or what?