As we reported a month ago, Farm Aid is officially coming to Randall's Island.
New York Mayor Michael Bloomberg today welcomed Willie Nelson and John Mellencamp to Union Square's Farmers Market to announce the day-long concert on September 9th. Said longtime activist Mellencamp: "This is ouuurrrr city."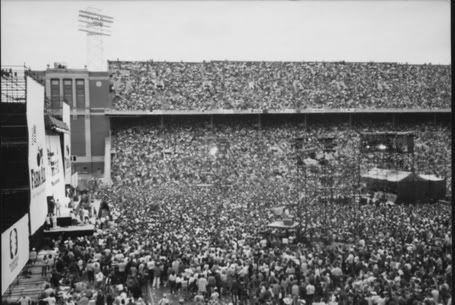 Farm Aid 2007: A HOMEGROWN Festival will feature headliners Willie Nelson, Neil Young, John Mellencamp and Dave Matthews, and the organizers are promising a soon-to-be-revealed list of "other top artists" to join them on 9/9.
Tickets for Farm Aid 2007: A HOMEGROWN Festival are on sale June 16 at 10 a.m. EDT and are available at all Ticketmaster outlets, online at http://www.ticketmaster.com/ or by calling (212) 307-7171, (631) 888-9000 or (203) 624-0033.

For more information about Farm Aid 2007: A HOMEGROWN Festival, visit http://www.farmaid.org/.  
Randall's Island is actually an amazing place to host an event like this. We're guessing the crowd at this year's Farm Aid will look remarkably similar to the late July Rock The Bells festival featuring Wu-Tang Clan and Rage Against the Machine.