Just after six, with the scorching sun slowly setting and a stage strewn with instruments with no one but Keller to play them, Mr. Williams unassumingly strolled onto the stage strumming an acoustic guitar as the PA music faded away underneath. Wandering up to the lip of the stage, he played an instrumental tune in which he repeatedly teased strains of Uncle John's Band.
After moving to his proper post behind the microphone, he busted into the crowd pleaser Freeker By The Speaker, welcoming everyone mid-song "to the hot as balls shows," which ignited an enthusiastic cheer from the already sweaty, sold-out crowd. Keller, a veritable human iPod set on shuffle, then moved into a slowed down version of the Eve 6 late '90s alt-rock radio staple Inside Out. Is there anything this guy won't take a stab at covering?
More then anything, it's always fascinating to watch Keller at work. He moves between instruments, wheels turning in his brain as he figures out which way to take the song and what his next loop will be. He seems to glide effortlessly between guitar, bass, keyboard and at one point theremin(!), making you forget that it's just one man up there, when it sounds like there is a whole band supporting him.
Playing for almost an hour plus, Keller stuck with mostly his own material, but snuck in a cover of the Allman's Midnight Rider, giving the older Deadheads in the crowd something to sing along to. The highly enjoyable and very tongue in-cheek Doobie In My Pocket —  a tune that I can best describe as a kids song written for adults — a goofy story with repeating refrains that builds verse after verse (think Arlo Guthrie's "Alice's Restaurant Massacre" — but about 10 minutes shorter), closed out his solo portion of the show.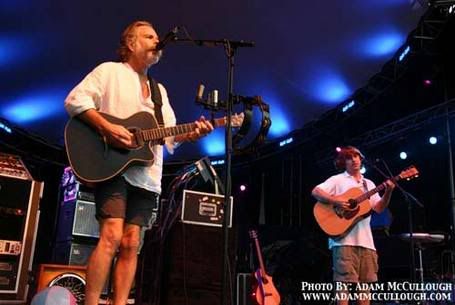 Repeating what happened on the opening night of the tour — and what is sure to continue throughout — Keller was then joined by Bob Weir, whose trademark short, shorts seemed appropriate for the heat. The pair played acoustically on a couple of tunes from the Grateful Dead's vast songbook. Both seemingly enjoying the brief tweener set and jammed a bit before sharing vocal duties on Bird Song and Man Smart (Woman Smarter).
Playing just a few hundred feet from the Central Park Band Shell, where the Dead graced the stage a handful of times in the late '60s, RatDog — along with substitute guitarist Steve Kimock, stepping in for Mark Karan who is dealing with health issues — hit the stage for a two-plus hour marathon set.
No stranger to Dead fans, Kimock's guitar work transformed RatDog from a straight ahead rock band that jams, which it has been in recent years, to a jamband that rocks. As has become a custom, an opening jam loosened everyone up, which led into the The Beatles raga-infused pyschedelic classic Tomorrow Never Knows, with Kimock making his guitar sound like a sitar and Bob imploring the crowd to "turn off your mind, relax and float down stream" — a sentiment evoking the memory of the Summer of Love.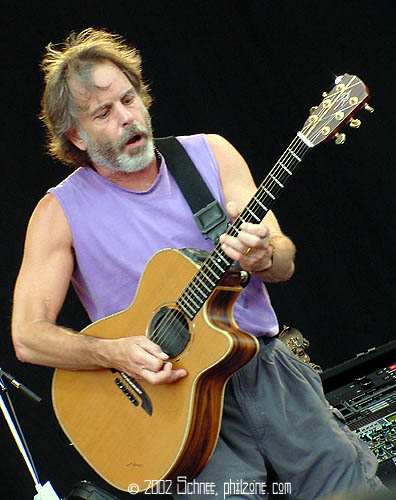 Bob, never one to shy away from a song with with shout out to the city he's playing, dutifully handled the Americana infused lyrics of Ramble On Rose, a theme that would return again in the encore. After a couple of acoustic tunes, including the cowboy classic El Paso and RatDog staple Corrina, Keller was invited back on stage to trade verses on The Weight, where he put his own touch on the lyrics, giving a nod to his dog Squishy.
A sped-up Good Morning Little School Girl made way for the monster asterisk and arrow-infused set closing run, kick started with Help On The Way. As the band made it's way into Slipknot, Keller returned to the stage with guest trombonist Josh Roseman and drummer Tom Pope. The song melted into a jam, as Bob the ever-gracious band leader left the stage and featured Keller, Roseman and RatDog sax player Kenny Brooks sparring with each other with Williams' gift for mimicking a horn as the impetus.
As the jam wound around a brief drums foray, vastly underrated keyboardist Jeff Chimenti started bringing things back home as Bob returned to the stage and the two locked in teasing another Lennon-McCartney number. As the rest of the band caught on, Bob stepped to the mic, belting out a definitively Bobby-esque version of Dear Prudence. Finishing what their started earlier in the night, Bob and Keller revisited Bird Song as it led back into Slipknot and the set closer Franklin's Tower.
With curfew quickly approaching at the venue, the band ever so briefly abandoned their instruments and returned for the encore: U.S. Blues. This version included full on flag waving and everyone emphatically embracing the classic summertime anthem. RatDog has really become a must-see, and with Kimock getting more comfortable as the tour rolls on, I'd grab a ticket now if you haven't already.