Phish 08/02/1997 DAUD (FLAC):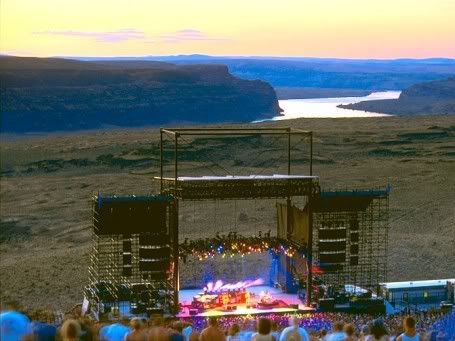 Last Thursday marked the 10th anniversary of Phish's first performance at the legendary Gorge in George, Washington. While the setlist of this show may look a bit pedestrian, you can't always judge a book by its cover. Songs such as Wolfman's Brother and Divided Sky featured some major peaks that aren't typically seen in those tunes. You can tell just by listening to this incredible FOB recording that both the band the crowd are so excited to be at the most beautiful venue these United States has to offer.
At the end of the show, after the sun had gone down, guitarist Trey Anastasio asked lighting designer Chris Kuroda to turn off the lights for the jam at the end of Harry Hood. Kuroda complies and the band plays a magnificent jam with the stars being the only source of light. I wasn't at the Gorge, but I still get chills everytime I listen to the crowd going nuts as the lights go down and the electricity goes up.
Assembly of Dust 08/02/2007 DAUD (FLAC, MP3, STREAM):
Photo by Adam Kaufman
I've had a great year of seeing bands I've never seen before, and one of the bands that made the most impact was Assembly of Dust. Frontman Reid Geneuer's songs are catchy as fuck, and I just can't get them out of my head. I haven't had a chance to see AoD since April, so I decided to check out a recent show on the always-helpful Live Music Archive.
Last week AOD played the "Alive at Five" concert series in downtown Portland. This gig was special because Reid was reunited with his former Strangefolk band mate Erik Glockler. Glocker joined Reid for a beautiful version of Rachel, a song the two of them first started playing more than 10 years ago. The rest of the band came out for a rippin' take on The Beatles' Get Back that showed off Nate Wilson's piano playing.
I enjoyed hearing the Strangefolk reunion, but my favorite tunes from this show just featured Reid and the band. Assembly of Dust's music has a nice down-home vibe to it that gets me moving every time I listen to them. Weehawken Ferry and Grand Design both have funky beats and catchy choruses. I really need to see AOD again soon, and luckily for me the band is currently on tour, so I will have ample opportunity to kick up my heels again.
Steely Dan 03/20/1974 FM (FLAC, MP3):
After listening to one of Steely Dan's rare live gigs from the '70s, I'm just confused as to why these guys didn't tour behind any of their legendary albums. The Dan absolutely tore it up in the live setting with a band that included Michael McDonald, Denny Dias and Jeff "Skunk" Baxter. To see what I'm talking about, download this crispy as fuck radio show Steely Dan recorded on March 20th, 1974.
I've had a copy of this show for years, but the analog tape hiss made it unlistenable. Last week a pristine copy of the set made its way to the torrent sites. My old copy has now become my new coaster. The show begins with a high energy romp through Bodhisattva that features Baxter and Walter Becker trading mind-blowing licks. Do It Again is a little more groovin' than the album version thanks to McDonald's work on the Rhodes. Other nuggets on this recording include the nasty solos in Rikki Don't Lose That Number and a soulful version of Any Major Dude. We can only hope that more crispy recordings from the Dan's epic 1974 tour surface soon.
What shows have you been listening to lately? Share with the rest of the class by leaving a message below…