We started the new touring season in Canada at the grungy but oh-so-vibey Richards on Richards in beautiful Vancouver, British Columbia. The stage would barely contain the backline, and the lighting design for the evening resembled our native Soldier Field in symmetry. The "make it happen" attitude, coupled with a well versed local crew, made the cramming of gear easier to deal with. We tackled tech problems left over from New Years Eve, and the band rehearsed with acoustics parked in front of MacBooks within the broom closet of a green room next to the beer cooler. It wasn't all glitz and glory, but in the end it would all be worth it.
For not having played for five weeks the band looked great. Fairly tight and full of spunk, the band set out on a personal challenge that night: they would learn a new cover each day, and play it that night. A treat for the fans, band and crew alike. This night we wouldn't see a new cover per se, but a long shelved tribute in Seek and Destroy. The energy in the room was explosive, and the dirty bar vibe really kicked into overdrive. A friend of mine who was attending her first Umphrey's show said: "I had no idea music like this existed." That's perhaps one of the greatest compliments a band can receive. Other songs of note were Dump City which abandoned a set list deemed Dear Lord for a deep and techy house jam that is still in my head. The whole second set is worth a listen for the energy of the room. This set shows UM's ability to write a setlist tailored to the vibe of a venue and deliver it in style.
En route to Seattle… Pneumonia in the disc man.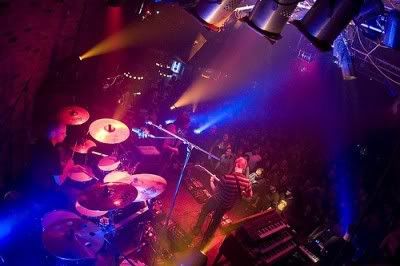 02/08/08 The Showbox, Seattle, WA
Dub Trio opened
Set I: The Bottom Half, Utopian Fir> Mullet (Over)> Utopian Fir> Mail Package, Walletsworth, Hangover
Set II: Wife Soup1> Jimmy Stewart> Wife Soup, Out of Order, Rocker Part II, Passing, Bridgeless
Encore: That's All2> Glory
1 No Intro
2 First Time Played (Genesis)
We found Seattle in its usual black and dreary condition after an eventless border crossing. It was my first time in this rainy city of the Northwest, so (Umphrey's Lighting Director Adam) Budney made sure I walked around Pike Place Market to witness the fish tossing, as well as some world class lobster tails on display. If there's one thing that can get me going in the morning, it's a gander at some giant lobster tails. At dinner, some of us went to a great Sushi restaurant a few blocks away from the club. The presentation and freshness were amazing, and we talked about some very creative thoughts for events in the future.
Besides a "Booty Wax" and "West Coast" chant laden Hangover, we witnessed a killer Wife Soup with a notable Jimmy Stewart. Tonight would be my favorite encore of the tour in the form of a new, post-Gabriel Genesis hit That's All, which segued nicely into the major scaled, heroic anthem Glory. Despite a few brief rough spots, the boys nailed the cover head on with a great solo from Jake.
En route to Portland… rocking Disc 3 from tonight. "Turnin' me on"……
That's all of the time we have for today folks. Tune in tomorrow to see what happens as the boys make their way down the coast…