When our good friends Umphrey's McGee extended the formal invitation to open two shows for them at the famed Fillmore in our adoptive hometown of San Francisco, the collective Trio jumped at the chance. We knew we'd have two hour-long opener sets, and our own 2-set show the following night at the legendary Boom Boom Room across the street from the Fillmore.
Here's a sample conversation:
Ilya: "Bri — I don't remember these songs at all"
Brian: "Dude, me neither."
Pete: "….."
Ilya: "What songs you wanna do?"
Brian: "What'll sound good?"
Ilya: "Ummm, like all of them… or maybe none."
Brian: "Cool, that narrows it down"
Pete: "……"
Needless to say, when we hit the first notes of Double Negative, it sounded like we had never stopped. Almost like we were in the middle of a tour. Almost. We wrote out the exact sets we wanted to play with Umphrey's and ran them straight for an hour and a half without stopping. It was all smiles and noise. We packed up the gear and prepared for the weekend.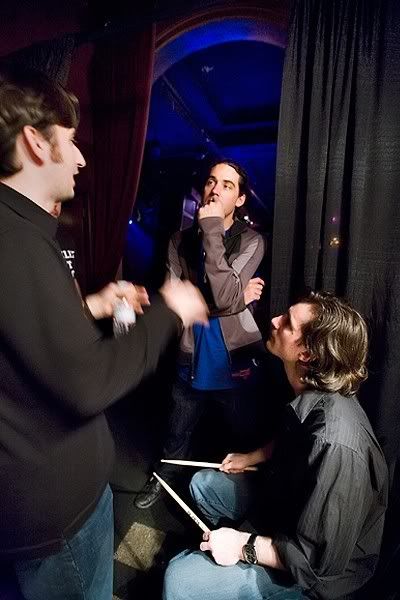 Friday, February 15th, 2008 9 PM
Fillmore Auditorium
San Francisco, CA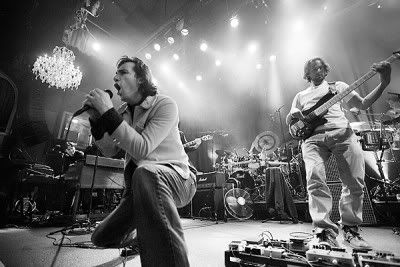 As we soundchecked on that beautiful stage, we realized that it had indeed been a long time since we last played together…. and how much fun it was for almost 7 years and how we missed each other. The show itself went off without a hitch. The sound of the Trio was still there…. Brian's gorgeous textural playing and deep harmonic sense, Pete's massive pocket and evil sneer, and Ilya's groove and dynamism.
Double Negative
Brekfist >
24 Hours to New Orleans
Refusenik
Suck My Kiss
The night was capped off during UM's encore with a take on Rage Against The Machine's Bombtrack — with Ilya singing/rapping and Brian playing keys:
[youtube]czE9-46eyPM[/youtube]
That's all the time we have for today. Tune in tomorrow for the conclusion of the OM Trio tour diary.