9. Sufjan Stevens: the Generation Bridge
One of my all time favorite concerts was seeing Sufjan back in January 2006 at the Allen Room (part of the Time Warner Center located in Manhattan). And you couldn't' have asked for a better venue/setting –The folk-rock-maestro backed by his 17-person orchestra performed in front of a tremendous glass backdrop looking out into the lit up city–it was simply stunning. The whole time in my amazement at the views & sounds I thought about my grandparents and how much they would love this. They would have been blown away by this perfect night and this young mans talent. It's not everyday new music comes out that you think you're grandparents will enjoy as much as you do. This is why Sufjan made this list.
8. The Mars Volta: the Abstract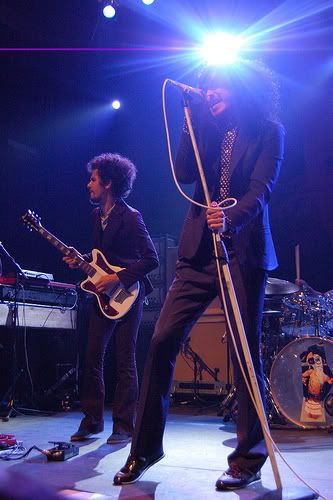 I love you. I love you not. They love you. They love you not. We Love You! It's hard to get a grasp on these pretentious prog-art rock motherfuckers and I mean that in a good way. Either you love them or you hate them (love them not) but more than likely you still respect them for their ability to irritate and confuse critics and music lovers all at the same time. Built on the ruins of fallen act At The Drive In, The Mars Volta combine the sounds of punk, jazz, latin, heavy metal, funk, and psychedelic pop to give us a present day taste of the future of music. They are experimentalists, audio scientists & sound pioneers and there is no other band like them.
7. Wolfmother: the Ancient Three
1/2 LZ + 1/4 BS + 1/8 tWS + 1/8 PF = 1 Wm (*See below for the band key.)
Did I just invent a new formula on how to classify & categorize & pigeon hole bands. Maybe? Either way, Wolfmother are one of the best modern day bands of the not-so-distant past and it was love at first listen when I first heard them. I'd randomly text message my friends WOLFMOTHER!!! And just like that too – All caps and three exclamation points. Despite the three heavyweights (LW, BS, PF) where Wolfmother's main source of inspiration is drawn, Wolfmother separate themselves by being a 3-piece band of equal explosive power. They are also the only 3-piece on this list and are easily the greatest new 3-piece act of the decade…so far.
*The Periodic Table of Bands (The Band Key)
LZ = Led Zeppelin
BS = Black Sabbath
tWS = The White Stripes
PF = Pink Floyd
Wm = Wolfmother
6. Decemberists: the Story Tellers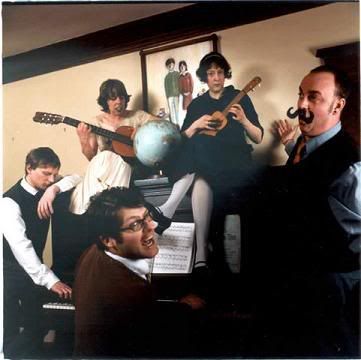 The Crane Wife (the Decemberists 4th full length album) and Picaresque (their 3rd) are both living breathing works of art that will one day be talked about in college lecture centers. The class will be called Musical/Historical Works of Fiction – From The Pen to the Studio & Stage. You see, The Decemberists don't just write songs and then assemble those songs together for an album. They write imaginative poems & elaborate epic fairytales filled with colorful characters and then weave them into masterful/musical novels. If anyone was to write a screenplay based on a bands album(s) and then Hollywood-ize it, The Decemberists are your band. The Crane Wife coming to a theater near you June 2010. I could also picture someone doing this with one of The Mars Volta albums as soon as they made sense of it.
5. Maroon 5: The Hit Makers
Play that funky music white boy…or white boys in this case. I can think of no other modern band that plays funky rock music as well as Maroon 5. They are by far the most commercially appealing band and commercially successfully band on this list with worldwide album sales of over 10 million. Let's face it, they write perfect pop emeralds (red ones – the rarest and most expensive, the ones that make women sweat/faint and men irresistible/broke) with grooves that sparkle and hooks that shine. Their last album, It Won't Be Soon Before Long is a lean mean hit machine with more than enough attraction and charm for audiences/music-fans of all shapes and sizes.
4. Fall Out Boy: the Experts
Go on knock these guys and then get over yourself. One out of two young people in pop-rock bands go to great lengths to express how much they dislike Fall Out Boy because they are either in denial or they are upset they are not as good. Meanwhile two out of two young people in pop-rocks bands imitate and inspire to be them. They are part of this list because plain and simple they are pop-rock craftsmen/song-smiths. They are the modern day kings of at what they do whether you like this style of music or not and the songwriting partnership of Patrick Stump (vocalist/melody master/song architect) and Pete Wentz (lyricist/band spokesman) is untouchable and unstoppable.
3. Brand New: the Mature
Our little band is all grown up. I am constantly at loss of words when I think of Brand New. Their melodies are passion filled & beautiful, their lyrics are sincere & brilliant and their music is dynamic & contagious. When Deja Entendu (their 2nd full length) came out, I was—still am—ecstatic over its perfection. To me Brand New are the most honest and raw band on this list…and they are the only band on this list that have exponentially progressed from album to album—this only refers to the bands on this list who have released more than one album. I know that one day when you ask someone to list a few of the greats that came out of Long Island, one of the first ones mentioned will be Brand New.
2. The Strokes: the Saviors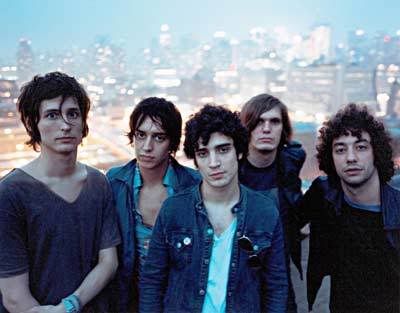 Shocked and then perhaps relieved at the embodiment of hope & sound when The Strokes landed. We knew something special & unique yet familiar was going on the moment we first laid ears on the songs like "Hard To Explain" and "Last Nite" and just like that, they were acclaimed by critics and fans as the redeemers of rock music. While some of you may be questioning why the Strokes made this list, if you think about it, they are a band of this decade with albums of this decade. Their debut album Is This It set the bar for all modern day garage-pop-rock or whatever you wanna call it bands. It all is one of the most influential albums of the decade and one of the best albums of all time. Even The Strokes have yet to top themselves.
1. Arcade Fire: the Great Unifiers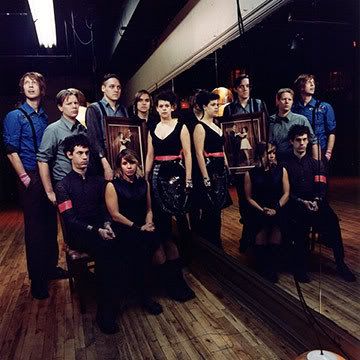 Arcade Fire reign supreme. They are the best new band in the world. Thanks to Pitchfork lighting the first noticeable match with their review of Funeral (Arcade Fire's first full length), this elusive band has become the indie playboy model of the decade. No doubt they had people wet when clips from Neon Bible (their 2nd full length) were slowly becoming available. From being featured on the cover of the Canadian edition of Time Magazine to the appearing at No 2 on the Billboard 200 album chart (a rare and honorable feat for a band on an indie label), Arcade Fire is the band that brings people with nothing in common together to form a band with the hopes that it will some day & one day be as good. Now go get your guitar or violin or cello. Arcade Fire has taken the 00's and we'll be waiting until next decade for something this good to come around again.