2. Smashing Pumpkins Singapore 1996:
[via Uncle BigBrown]
The Smashing Pumpkins were fucking huge in 1996, the year when they embarked on a massive worldwide tour in support of Mellon Collie and the Infinite Sadness. Back then the Pumpkins used generic printed stage setlists, but after reforming in 2007 they started using a greyscale version of their logo as a background. Here's an example.
3. The Who 03/31/2007 London, UK
It's amazing how many hits The Who can throw at you in the space of one two-hour set. Last March, The Who played a string of shows at London's Royal Albert Hall in honor of the Teenage Cancer Trust. We found a photo of the stage setlist from the final gig of that run. And here's another Who stage setlist from 2002.
4. Eddie Vedder 04/07/2008 Berkeley, CA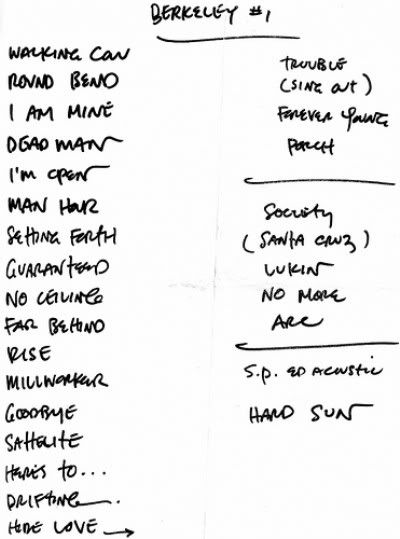 Eddie Vedder recently completed his first solo tour, and we found a stage setlist from his show in Berkeley. Vedder's lists kept up the longstanding Pearl Jam tradition of handwritten setlists.
5. Roger Waters 06/08/2006 Berlin, Germany: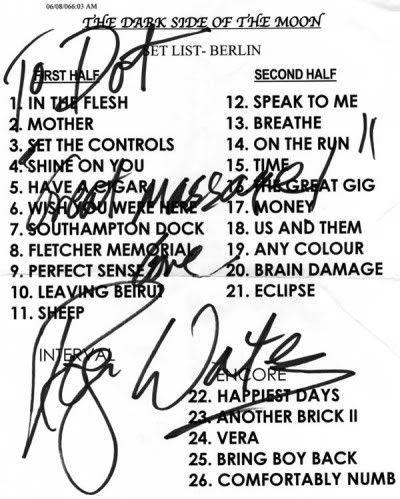 Apparently "Dot" gives one helluva massage. She came home from Roger Waters' show in Berlin with a stage setlist signed by the former Pink Floyd bass player.
6. Keller Williams 02/28/2007 Burlington, VT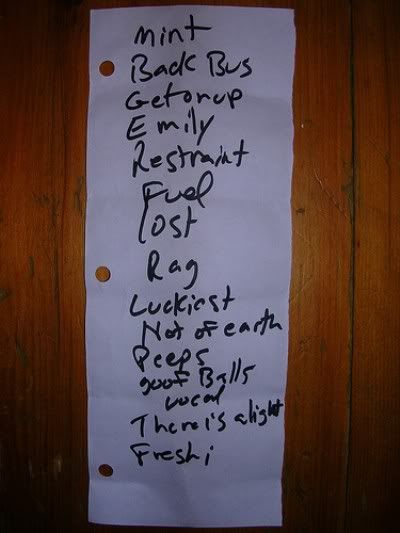 [via VTDarkStar]
Is anyone surprised that Keller Williams' stage setlist looks like it was thrown together at the last minute? He seems like a "fly by the seat of my pants" type of guy.
7. Shakira – Oral Fixation World Tour: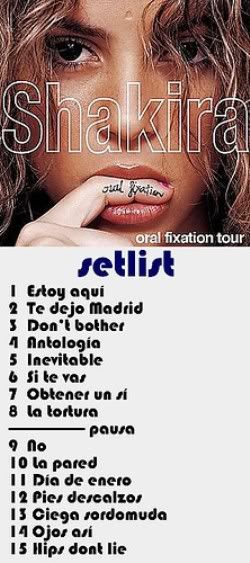 Shakira doesn't change her setlist from show to show, so she can spring for this fancy looking setlist featuring her beautiful mug. We also love the name of the tour. Plus, you know the Hips Don't Lie encore must've been intense!
8. Van Halen – 2008 World Tour Cue Sheet
Van Halen is another band that plays the same songs night in and night out, so they also have a more formal document prepared. Their stage setlist features cues for the lighting and pyro teams, so they know just the right moment to blast the confetti. The band themselves use a more straight forward songlist.
9. John Denver – Date Unknown:
The oldest stage setlist we found comes from the late great John Denver. We're not sure when this setlist is from, but we can't believe he cut Me and My Uncle! What's up with that?
10. My Morning Jacket 10/10/2003 San Francisco, CA:
Bands often abbreviate the names of their songs, but the MMJ guys take it to a whole new level on their stage setlists. Besides the setlist above, we also found a few more MMJ 'lists.
Here's ten more stage setlists of interest:
That's it for this week, but we've got one more round prepared for next Thursday.