Thanks to my degree in Music Business, the ability to work up in Nashville on occasion and my current career I have had the opportunity to setup and run hospitality areas for everyone from Widespread Panic to Hootie & the Blowfish. Panic recently played at my work and I had the opportunity to go on a grocery store run for their chef. You know what I picked up? Vegetables and tons of them (including leeks)!
One can only assume this was for juice. But does this request from the band seem elitist to you? Will you shun them because of what they need to eat in order to perform?
Just for kicks let's look at some artists elitist or odd requests. After all, they can refuse to perform if their rider is not met – it is part of the contractual agreement between the venue/promoter and artist. I'd really hate to miss a Panic show if the band didn't get their proper nutrients. So without further ado…
Check out other performer's riders over at the Smoking Gun.
And don't worry Cheese; Obama drinks the best beer in the world (that's not in a green bottle). The one and only Pabst Blue Ribbon.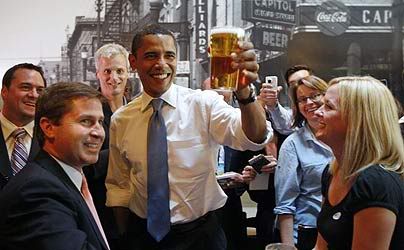 Cheers!
The Tennessee Rounders – Pabst Blue Ribbon:
[youtube]Ox_r3WdA-G8[/youtube]