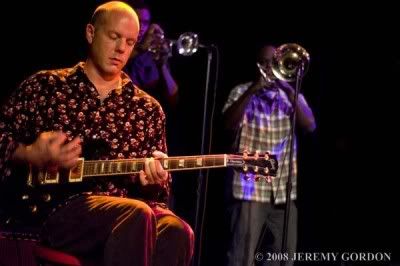 Leaning heavily on Country Ghetto for the first few songs, the band managed to sneak in a few old time covers like Johnny Otis's Stagger Lee and, of course, the classic Muddy Waters' Hoochie Coochie Man. Interspersed through the set were solos by Daryl Hance on slide guitar, Adam Scone on Hammond organ and drummer AC Cole (related to ol' Nat King Cole). After an energy packed 90 minute set the fans weren't quite ready to let the boys off the hook to say good night to the Brooklyn crowd.
So after a quick break, the band rose up to encore with the gospel-infused The Sun Is Shining Down. Man, this is just one of those songs that's good on the album, but with fans singing all around and a live band front and center it just blows you away. JJ also took the chance to call up New York's own blues guitarist Al Street to join in on the very funky Junior, while he switched back to the harmonica. Then, with the show coming to the end, it was time for JJ to say the last of his goodbyes. He slapped hands with everyone in the front row before heading off stage, leaving the band playing on and the fans dancing in bliss in true blues fashion.
Hopefully you got a chance to catch JJ Grey and Mofro's set at Mountain Jam recently, if not try and catch them during their ambitious summer festival tour at Rothbury, All Good Festival or 10,000 Lakes. Oh, and for those wondering where Mofro takes the music next, a new album is rumored to be out in August. I, for one, can't wait!