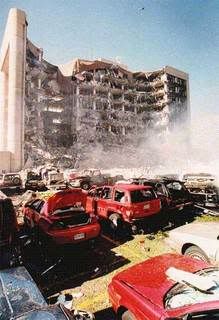 "It blows the minds most bitterly"
Devastation. Death. Smoke. Debris. Millions of thoughts were running through my mind. What was happening? Who could do this? Why Oklahoma City? Why now? Why? Why? Why? And to be completely honest — I still don't understand it.
"With killers pride, security"
To this day the Oklahoma City bombing stands to be the largest domestic terrorist attack on our nation. Prior to the 9/11 attacks it was the deadliest terrorist attack on our country. A few hours later, a former U.S. soldier was pulled over in Perry, Oklahoma, for driving without a license plate. His name was Timothy McVeigh.
"Bent out of shape from society's pliers"
The attack on the Alfred P. Murrah Federal building is said to be a response to the U.S. governments handling of the Waco siege that had taken place two years prior – to the day.
What causes a former soldier to attack his own country? And with such brute force? What is the motivation or influence? Was it the first Gulf War? Was it our government and the society it has created? He is quoted as saying that the bombing was revenge for "what the U.S. Government did at Waco and Ruby Ridge." He had traveled to Waco during the siege but he was never a member of Branch Davidians. How do you feel about this as a reaction to his dissent with the government?
"Human gods aim for their mark"
Since the Waco incident a chain reaction of sorts has started with the date April 19 and the issue of gun control. There is still controversy over who fired the first shots in Waco. Timothy McVeigh was a member of the N.R.A. and heavily involved with the gun culture in our country. The Columbine massacre was reported to have originally been planned for April 19, 1999. The students were said to have been influenced by Waco, the Oklahoma City bombing and Marilyn Manson. Then of course, the Virginia Tech shooter is said to have been influenced by the Columbine incident.
"Toy guns that spark"
In conclusion, LoC wants to know where you stand on gun control in our country and what influences Americans to hurt other Americans intentionally. What influences these decisions to hurt others? We are exposed to violence and death everyday on the 5 o'clock news, so who's to say that doesn't have more of an influence on people and their decisions rather than music, movies, and video games (which is often used as a scape goat to justify people's actions)? For argument's sake take a listen to Todd Snider's The Ballad of the Kingsmen.
Now contrast that with Drowning Pool's Bodies (Let The Bodies Hit The Floor).
Discuss…