Cambridge's Drug Rug opened the cruise with a rollicking set. I had just found out there was an opening band yesterday, so I went to their MySpace to check them out. When you go to see a band after hearing only one of their songs on MySpace, you never truly know what to expect. Will the band sound as good as the track they presented on their website? Just as with romance, sometimes MySpace profiles don't tell the whole story. In this case we lucked out — the band sounded even better.
Drug Rug is a four-piece that puts incredible amounts of emotion into each note they play and each word they sing, something that had been missing from many of the jamband concerts I've attended recently. Boyfriend/Girlfriend duo Tommy and Sarah led the band with their incredibly unique, high-pitched voices and snappy guitar playing. Apollo Sunshine's Jesse Gallagher did a fine job augmenting Drug Rug's sound by adding some furious guitar work to the mix. Drug Rug isn't a band I would typically go out of my way to see, but they kept me throughly entertained. It was really nice to be exposed to music that is completely different from anything I've heard before. Towards the end of the set Sarah announced that Apollo Sunshine would be coming on next. I expected heavy applause but oddly the boat went silent. I was a little afraid their set would bomb at that point.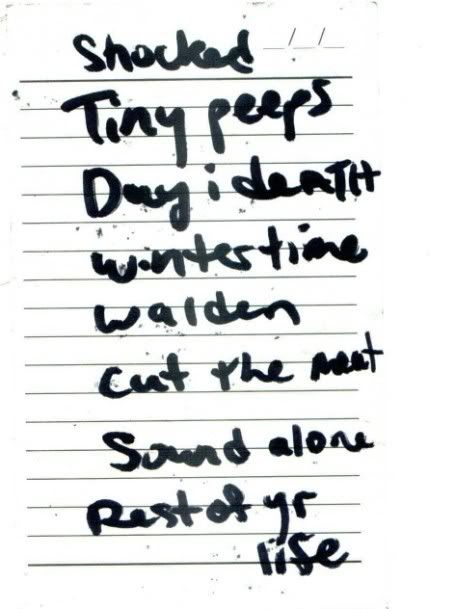 Drug Rug Stage Setlist
The break in between bands gave us plenty of time to take in the breathtaking views of Manhattan. I've been on two Rocks Off cruises now, and each one has been an absolute blast. Food and drink prices were reasonable, allowing everyone to get their buzz on and bellies full. The Half Moon has a nice outdoor deck that allowed passengers to mingle as we passed under the magnificent Brooklyn Bridge and the downtrodden Manhattan Bridge. The variety of the passengers was also remarkable. You name a contemporary subculture, and they were represented on that boat. I think that's a testament to the diversity of Apollo Sunshine's music.
Apollo Sunshine came on around 9:30 with a blazing version of Better Change Your Mind, which showed off all the talents of this power trio. The song started with a powerful and catchy drum beat laid down by Jeremy Black. Gallagher then added a slinky bass line, giving Sam Cohen a nice base to lay an extremely infectious riff over. After running through a few choruses and verses, Better Change Your Mind turned into an ol' fashioned freakout, featuring Sam and Jesse trading off guitars, basses, and drumsticks. But this was no hippie-dippie noodle fest — it was an orgy of dark and intense sounds that worked because of the groovy drumbeat that allowed people to dance as the noise of the amplifiers filled the room. The noise came to a peak after a few minutes, at which point they dropped back in the chorus. They certainly had everyone's attention at that point, allaying my fears about the crowd's reaction.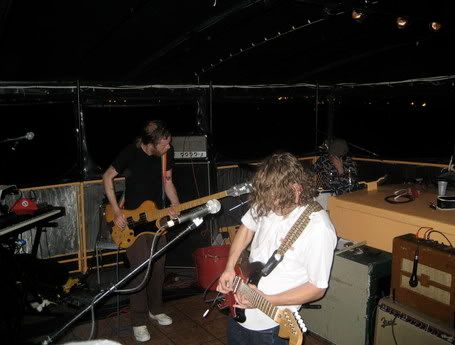 One of the cooler parts of Apollo's set was when Jesse would start off a song by playing a loop, like towards the end of the set when he pressed a button and out came the chorus of It's Been A While by Staind. At first he played it straight up before playing it backwards. You haven't lived until you've heard Staind played backwards. How psychedelic! After playing a loop, Apollo Sunshine would then launch into a tune. What a cool and unique way to intro a song.
Each member of Apollo Sunshine is crucial to their sound. Les Claypool lookalike Jeremy Black provided a steady and danceable beat the whole evening. Black's metronome-like playing allowed Gallagher and Cohen to do whatever the fuck they wanted without breaking the continuity of the song. Cohen's playing was a revelation. Sam got sounds out of his guitars that I just didn't think were humanly possible. During a cover of Crosstown Traffic he even got his opportunity to channel Jimi, and he didn't disappoint.
Apollo Sunshine showed the kind of teamwork Joe Torre would have been proud of, trading off licks, sounds and even their instruments. Jesse and Sam would rarely play the same instrument two songs in a row, which kept things extremely interesting. Gallagher's keyboard showed a perfect mix of ridiculous chops and knowing exactly how to get crazy tones out of his instrument. One minute he would be playing a complex classical piece on the organ, then all of the sudden he's completely deconstructing the tone by just tweaking a knob above the keyboard. I was kept off-guard all night by the trio, never knowing what to expect next.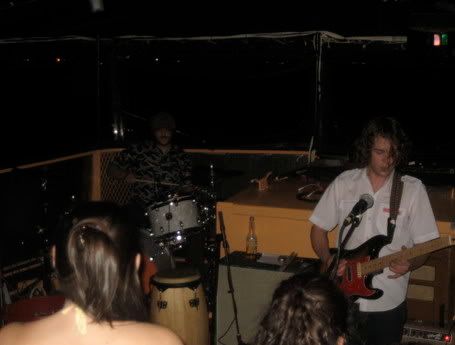 Towards the end of their set, a guest bass player joined the band. With Gallagher able to focus on his keyboards, the band did a killer take on James Brown's Sex Machine. The crowd ate up every minute of the well-played cover. Apollo Sunshine dropped a number of covers: the previously mentioned Crosstown Traffic and Better Change Your Mind plus their show-stopping performance of The Beatles' And Your Bird Can Sing. The covers were all spot on, which in the case of And Your Bird Can Sing is pretty damn impressive considering there are four members of The Beatles. Cohen absolutely nailed the difficult ascending arpeggiated guitar line that even George Harrison would struggle with. If you want to impress me, dropping a random Beatles cover always does the trick.
The thing is, Apollo didn't need to impress me at that point: I'm all aboard the Sunshine train. Not only did they have complete control of their instruments, they also showed off impressive vocal skills. Sam and Jesse sang creative and catchy harmonies throughout their 80-minute set. By the end of the night I was wondering how this band hasn't hit it big yet. Why was I seeing them on a small boat with only 150 other freaks?
Apollo Sunshine's music would appeal to such a wide range of fans that the only reason I can think of is that not enough people have heard their music or caught their live show. They won't stay under the radar for long. Count me in the next time these guys come back to town.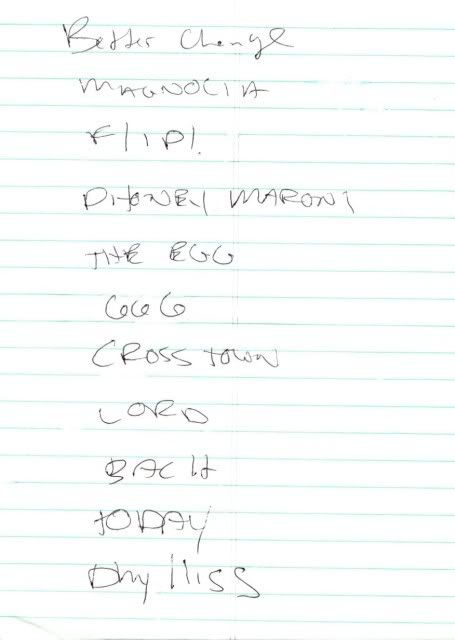 Apollo Sunshine 5/24/2007 Stage Setlist