RAQ seems to love the road. I know there aren't many musicians that really enjoy the nomadic touring lifestyle, but when I asked them about their favorite stops on the last few tours, they hit me with a Steve Miller Band song of an answer: Missoula, Nelson BC, Minneapolis, Arcata California, Omaha, Boulder, Phoenix, Tempe, Chicago, San Francisco — I thought for sure someone in the room was about to throw out a "Nnnnorthern California where the girls are warm," but I guess they just enjoyed every city as much as the last.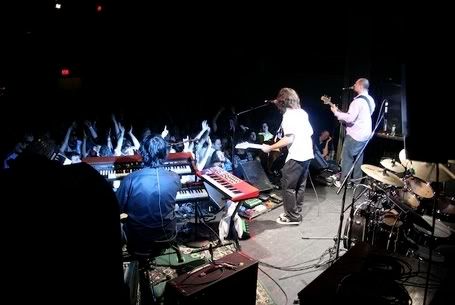 RAQ's still a fairly young band in the grand scheme — its roots don't even stretch back into the last millennium. I asked bassist Jay Burwick if the goals of the band had changed over the course of the past five years, and he assured me that while the big goal has always been and will always be selling out the so-called world's most famous arena, the short-term incremental goals have changed along the way.
Burwick: "I think the middle ground between here and Madison Square Garden has kind of filled in. Then there's the temporary goals, like the tour bus. Goal number one is the tour bus, and then let's get a bigger crew, and then let's play theaters and get a nice light rig. They're all stepping stones.
"Our goal from the beginning has been Madison Square Garden — sold out, not just playing it, selling it out. That hasn't changed. Having that in your head as the image of what you want is changed a little bit. Now it's kinda like let's be a little more simple, a little more realistic, and let's hit these short-term goals to build our way to the bigger goal."
Michetti asked us to make them look cool. Here you go, Chris…
On the heels of two extensive tours, RAQ's calendar is clear this summer. The band's next gig comes this Friday at Warren Haynes' Mountain Jam, with the only other date in June booked so far being the Wakarusa Festival in the state of science, Kansas. Festivals and boat cruises make up the only shows on RAQ's docket this summer. I asked whether they actually hung out and enjoyed the festivals as patrons before or after playing, and guitarist Chris Michetti compared the group to a stealth force, in and out Jack Bauer style. There is one condition that'll get them to stay…
Michetti: "If they're offering anything for free. Basically we take what we can for free…We actually just kinda end up wandering around and bump into each other, and we're like, 'Oh, hey.' And then when we all start our own conversation between the four of us, and it's like, 'Hey, maybe we should just have this in the van on the way back. It's 3,300 miles, we should probably get a head start.'"
Stoops hard at work…
RAQ has never been known to shy away from the Phish comparisons that inevitably arise. I always found it quite silly that any real fan of improvisational rock would actually want them to run the other way from comparisons to some of the best improv musicians of that generation. Burwick made it clear that, like Phish, it's much easier to experiment and stay loose with the music when the room is full of loyal fans, and whether you're a chick in the front row or a head-bobbin' dude in the back row, the band does know when its amongst friends:
Burwick: "There will be some shows where you look out and everybody's familiar. And you're like, 'I don't know you, I just know I've seen you at shows before, and I know tonight we can play whatever we want, and you're gonna love it.' We experiment, we get loose. And when it's a bunch of people that we've never seen before, we're a little tight, we're trying to impress you, we're trying to do these things that you'll be impressed by, as opposed to looking out and seeing all RAQ fans, it's like, let's cut loose, let's have a good time, because these kids are here to have fun and they know what they're in for."
Gotta love a bass player that sings
Jay had plenty more to say about the quality of RAQ's fans…talk about a band that truly respects its audience, these guys have to be near the top of the list.
Burwick: "Our fans are hard-fucking-core. They will fucking fight you if you say shit about us, and I love that. In my mind, that always breeds a bigger fanbase, eventually. Not only just this guy's best friend who loves RAQ, but his 10 friends who are like, 'This guy is fuckin' nuts about this band. What's his deal? I better go check this shit out.'
"And exponentially it grows. That's what you hope for, when people's parents are like, 'Allright, my son has left home and he's on tour, and I don't even know what that means, with this band that still plays small venues…' It's not like we're some huge band everybody's heard of. We're still low-key, and I'm sure there's people's parents scratching their head goin' 'Why is my daughter spending all her money going to see this band RAQ? They're not even on the radio.'"
The best shot we have of drummer Greg Stukey
But as the band begins to sell out bigger venues and meet more of its incremental goals, its remarkable how down-to-Earth they've managed to stay. Keyboardist Todd Stoops talked to me about walking into a room in Nelson, British Columbia, the band's first time there, and a fan saying "We've been waiting five years for you to come here." It's tough to keep a level head and a small ego, but Stoops knows the real truth about this profession:
Stoops: "We're so lucky to be able to do what we do. And there's no bullshit behind that; we really are so lucky. The more we remember that, the more humble we become. Actually having fans is such a humbling experience. We're ultimately responsible for their experience at the shows. And knowing that, realizing that, rather than just playing these shows where random people come, when your fans are coming, it's a whole 'nother ballgame. These guys will tell you more than anybody."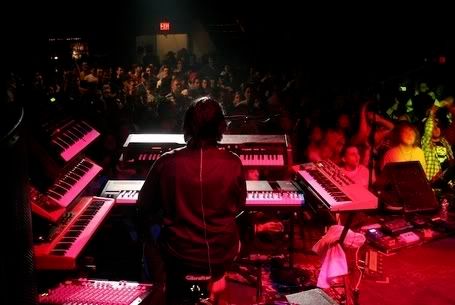 Stoops from behind…no, not like that, although he is handsome
The "these guys" in question? Page McConnell and Jon Fishman had each entered the room over the course of the interview; Page in a more sheepish style, Fishman bursting through the door like a drunk Tazmanian Devil. Fish had just opened the show with an acoustic comedy duo called Touchpants, and Page came to the show having just recently heard Walking in Circles on the radio in the dentist's chair. Let me tell you, it's damn near impossible to ask the "Are you tired of all the Phish comparisons?" question when half the band is in the room.
Fishman scanning the Old Testament
But they don't mind; or, at least they don't show it. When Burwick, Michetti and Stukey recruited Stoops to join the band in October 2002, they pitched their vision as "KISS meets Phish." Well, that night, they accomplished their goal better than they ever could have imagined: Two members of the popular rock band backstage (one opening), and a wicked cover of Shout It Out Loud, complete with a fire-breathing performer friend named Mike from Higher Ground. KISS met Phish that night, and the imagery was off the charts.
Shout it out loud, breathe it out hot
[youtube]jFZR9d63tDA[/youtube] 
We're obviously fans of RAQ, more casually than the ones Burwick references above, but we dig their sound and the energy they bring to a show. Our one complaint has been there aren't enough soundboard recordings circulating, but Ed Maier and the RAQ camp has released a crystal-clear copy of the 4/21 Bowery show, and if you're on the fence about these guys, this'll push you right over the hump. Everything from the Quick and Painless first set closer through the end of the show is red-hot, hot like Mike from Higher Ground's fire…get on it.