The recurring theme of the scenes is abrupt back-and-forth between fantasy and reality. For example, the Anne Frank character – played by the talented Emma Feinberg – is in a glamorous fantasy at a restaurant one second, and then BANG she is back in reality at the Concentration Camp surrounded by forced labor, sexual exploitation and death.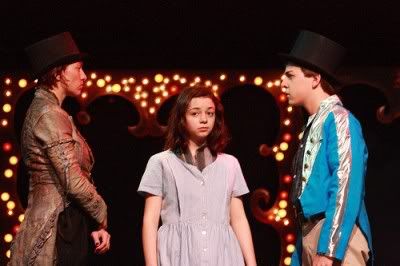 The supporting cast was great, but the majority of the vocal performance fell on leading man Alex Parrish who did a fantastic job with the challenging vocal styles of Jeff Mangum (Neutral Milk Hotel's lead vocalist). That's no easy task, Mangum's style is quite unique and features a lot of drawn out syllables, half-step movements, strange jumps in pitch – just really hard stuff to sing.
A few of the songs were performed with just Parrish and his acoustic guitar and others were even more sparse where he would sing portions of songs a capella. The tunes with the full band sounded great too, Palmer played some keyboard and there was a great horn section from the school. Particularly classy was the trumpeter gently accompanying Parrish from stage right on the song Communist Daughter.
And the technical production – close to flawless – was especially impressive on the opening night of a high school play. They had pre-recorded sound effects, musical interludes, multiple levels of well crafted scenery, a gigantic bathtub as well as the gate to the concentration camps descending from the ceiling multiple times.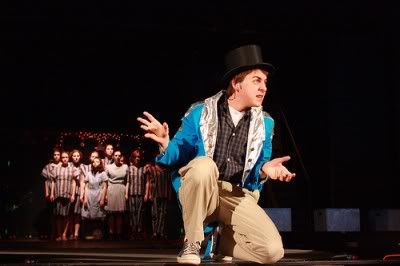 While they took some liberty with the album order, the finale was still the track that closes the disc (Two Headed Boy Part II) and it featured this ridiculous scene with the entire ensemble exuberantly dancing and using musical instruments as props.
Get this… the scenes and music segued in and out of each other so seamlessly that the crowd didn't erupt into applause until the conclusion of the production – I couldn't believe it. The show wasn't without its laughs, there were some jokes made by drunk Nazi guards that the crowd seemed unsure if they were supposed to chuckle at or not. A scene that featured three Greek Gods was by far the most lighthearted moment of the night.
At the end of the show Palmer announced to the audience that Saturday night's performance is almost sold out, but tickets are still available for tonight's show as well as the Saturday matinee. The High School is at 251 Waltham Street in Lexington. Don't live in the Greater Boston area? You can tune in and catch the webcast of Saturday night's performance at www.partyontheinternet.com at 7:30pm.
All photos are courtesy of Amanda Palmer's Flickr Account.